Keywords are at the core of any organic search (or SEO) strategy. Choose the right target keywords, and you will have an inside track toward reaching your audience in Google search. Choose the wrong targets, and you will find yourself struggling to stand out in the search results.
Follow these tips to identify the best keywords for SEO:
SEO Keyword Research Starts with Your Target Audience
Every marketing plan revolves around a target audience. SEO is no different. You must understand the people in your audience and incorporate them into your keyword research. What words do they use to describe your products or services? Focus your research on these specific terms instead of industry jargon. Do not call something a "business solution" when your audience simply refers to it as "software." It might be helpful to come up with a list of negative keywords like you usually do for paid search.
Location is another important factor that relates to keywords and your target audience. If your audience is local, then consider adding specific locations to your keywords.
Understand Search Intent
Search intent describes the purpose of an online search. Think of it as the reason why somebody searched on Google. The most basic conception of search intent is transactional vs. informational.
Transactional search: The intention is to make a purchase. An example is "kids running shoes." Whoever does that search most likely wants to buy running shoes for a kid.
Informational search: The intention is to research or find information. An example is "kids vs adult running shoes." Whoever does that search might want to buy running shoes at some point, but right now the goal is to learn how they compare to adult running shoes.
As a first step, you must figure out whether your target keywords are transactional or informational. Then, go into more detail and determine what exactly your audience wants to know. If you identify your keywords as informational, try to understand what type of information is most relevant.
Find SEO Keywords with Search Volume or Interest
You can probably come up with a list of relevant keywords for a particular topic without much effort. But these keywords, regardless of how closely they align with your topic, are not useful unless people search for them. Popular SEO tools such as SEMrush give you estimates of the monthly search volume for keywords. You want to find keywords with search volume greater than zero to make sure there is an actual audience to capture. Otherwise, you might produce great content that nobody will find.
That said, search volume is relative, so you do not want to simply choose the keywords with the most monthly searches. A keyword such as "business ethics" gets around 15,000 searches every month, but it is probably too broad for your blog post. Something like "what does ethics mean in business," which gets 170 monthly searches, is a better option because you have a realistic chance to rank for it.
Compare Yourself to the Competition in Google Search
What is another reason to avoid broad keywords such as "business ethics"? The search results are usually competitive. There are probably a lot of big, high-authority websites that target that keyword phrase. If you manage a smaller website, you will find it difficult, or even impossible, to carve out a piece of the search results. Size is not the only factor that impacts competition; relevancy matters as well. If your website is for a school, only target business-related keywords if the school offers business programs. And to go a step further: identify queries that a business school should answer.
The quickest way to understand competition in Google search is to perform the searches yourself. See what types of websites show up on the first page. If those sites are like yours, then that keyword is likely a good target.
Assess Google Search Features for Your SEO Keywords
Competition also relates to the types of search results. Anybody who uses Google knows that the 10 blue organic links are a thing of the past. Now, Google shows a handful of dynamic search features that change based on keyword. Examples are featured snippets, people also ask questions, local packs, image packs, knowledge panels, and so on. You must integrate these types of search results into your keyword research.
Let us use the local pack, which includes Google My Business listings, as an example. If Google shows a local pack in the results, then you might want to avoid targeting that keyword with a blog post. Instead, target that keyword with your Google My Business listing. And for your blog, identify keywords that have blog posts in the search results.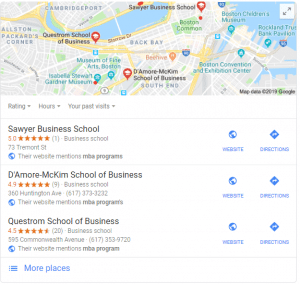 Match SEO Keywords with Paid Search
Many Google search engine results pages feature paid advertisements above the organic results. As such, it makes sense to consider paid search when you choose target keywords for SEO. If, for example, a specific search query results in three to four advertisements, then it might not make sense to focus on that as a target keyword. Even the top organic listing will be the fourth or fifth listing overall. Instead, try to find search queries that do not include advertisements. Long-tail keywords that are more question-and-answer by nature typically do not have advertisements.
In addition, pay attention to your own paid advertising campaigns to find keyword gaps. Which keywords perform exceptionally well in Google Ads? Avoid cannibalizing any of that paid performance with organic search. Are there relevant keywords that are too expensive for your campaigns? Consider those as target keywords to generate value from organic search.
If choosing keywords for SEO sounds like a daunting process, contact the experts at CloudControlMedia. Our SEO team can help you integrate the right keywords into your online marketing strategies to get the most out of organic search.